2018 is well underway with events run and post ride drinks dispatched. Turns out it's hot at this time of year and there is wild weather to contend with as well. Read all about that in the current ride reports. Mark enthuses about the forthcoming Oppy, offers historical insight to this venerable event and makes a strong case for your participation this year.
More images from the ride here.
Fleche Opperman (The Oppy) Saturday 24th March 2018
Just a reminder regarding the Oppy for 2018. If you are contemplating participating in the event, get in touch with the coordinators here: AudaxQld@gmail.com
Remember you need:
3-5 members (strictly: "3-5 bikes")
a team name
a nominal captain (that does the registration etc)
a route that you design (must be at least 360km, can't ride same road twice in same direction)
supporters (optional) (can only give support at controls)
sleep-stop (optional, but recommended) can be hotel, ditch, someone's house,
Oppy Facts
The Oppy is short for the FOADT or the "Fleche Opperman All Day Trial" or the "Fleche Opperman" or just the "Oppy". (Sir Hubert Ferdinand Opperman will be the subject of a future email.)
Fleche is short for Flèche which means "arrow" in French. Flèche Vélocio is also a classification of riding where teams start in different places and at a certain time converge on the one spot. The Flèche Vélocio was created in 1947. After the Brevets and Paris-Brest-Paris, it is the oldest type of event organized by the Audax Club Parisien.
More info: http://www.audax-club-parisien.com/EN/351%20-%20Introduction.html
Flèches are now held all over the world at Easter. In the UK it is called "The Easter Arrow", in Australia it is called the Oppy. And since Easter is a sacred time in Australia (because of the long weekend holidays, not religion) Audax Australia is the only country that doesn't run their Flèche actually on Easter.
Last year's world-wide results here: http://www.audax-club-parisien.com/EN/434%20-%20Results.html. For example, in 2017 Germany had 57 teams, Brazil had 26, South Korea 43 and Belarus had 1. Australia had 26 teams in 2017 of which Queensland had 2.
And so, yes, the Oppy is a big deal. It is not so much a bike ride, but more of a sacred duty within the world-wide fraternity of Randonneurs. It is a time when Audax links arms across the sea, when ranndonneur-ness and bikey-ness crackles in the air; when the bakeries and breweries around the world put on extra staff to gear themselves up for the onslaught.
It is great to be a part of a team; but your team will also be a part of an even bigger team.
Terra Australis Bike Epic – Saturday 15 September 2018
6,500 kilometres down the eastern regions of Australia starting at Cape York, the northern tip of Australia and finishing at Wilsons Promontory the southern most point. The race route is North to South – there is no other option.
For those seeking a challenge, this could be what you've been looking for.
Ride Reports
I've rearranged the ride reports on the website to make them easier to access. They are on the website menu order in reverse chronological order with the current year at the top of the list. I'm putting submissions on as I receive them and advertising them in the newsletter so it doesn't hurt to check in from time to time if you want to catch up on recent rides.
John McMullan and Keith Heinrich share their views on the 11 out of 11.
Keith writes:
15 riders gathered at the appointed time and the swifter riders quickly vanished into the distance. In my case that was just about everyone else. Within a few kilometres, John appeared and he kindly accompanied me for the rest of the day. This afforded me the luxury of just focusing on surviving riding, rather than navigating as well.
John's experience on the day was a little different to mine:
I will say that this ride is one that I consider to be a feature ride, despite the warmth it is a good ride to bring in the New Year.
David Foster recounts his evening Horizontal Hundred:

Never in my life had I considered doing more than a single 100k ride in a month (after all, a guy at my age needs to conserve as many heartbeats as possible) but a conversation with John McMullan over post ride drinks on New Year's Day saw me lining up 3 days later for the Horizontal 100 as a "recovery" ride.
Brisbane Valley Rail Trail
The Brisbane Valley Rail Trail (BVRT) follows the disused Brisbane Valley rail line that commenced construction at Wulkuraka near Ipswich in 1884 and was completed at Yarraman in 1913. The BVRT winds its way up the Brisbane valley, traversing farmland, forests, picturesque rural settings and country towns. It offers a different type of riding experience and is worth breaking out the graveleur to check out at some point.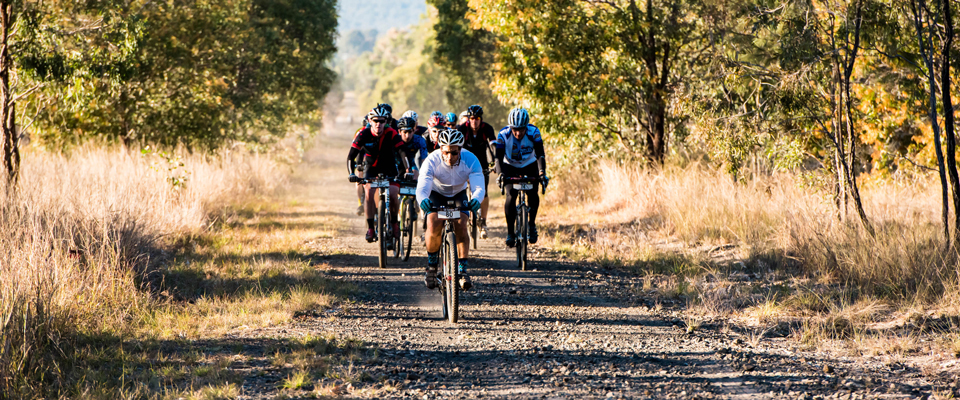 Check out the BVRT facebook page for more information.
Tech Topics
A reminder that John is compiling information on technical topics of interest to the long distance rider. John has been working on his first item covering lighting. Keep an eye out for that one.
Newsletter submissions
Got news, a ride report, pictures?? As usual, if you have something to share, send it here: audaxqld@gmail.com.
All submissions gratefully received.